The Basics:
Avenue is a quick pen-and-paper game where each player draws directional lines on their 6×7 grid, connecting green and purple grapes to farms and castles. It was published in 2016 by Aporta Games, and was designed by Eilif Svensson and Kristian Amundsen Østby. It's for ages eight and up, supports one to ten players, and has an average game time of 15 minutes.
Rules:
At the start, a random farm card is picked and revealed to all players; there are six farms designated A through F. One player then flips over route cards depicting one of six different lines you can draw on your grid. After the fourth yellow card is shown (direction cards have gray or yellow backgrounds), the round ends, and you score based on how many grapes connect to the specified farm. You continue this for five rounds, then tally up your points and add bonuses for similarly-colored grapes connecting to the green and pink castles. The highest score wins!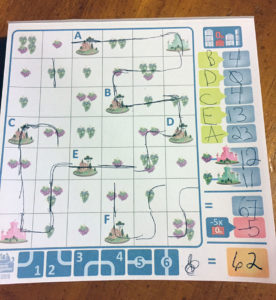 Accessibility:
All the rules fit on one page and are simple, clear, and memorable. There are player aids on each sheet, including the six possible routes and their corresponding numbers. If you're playing in a big group, you might not be able to see the cards flipped from where you're sitting, so this number system alleviates that problem.
Player grids are small, which could be an advantage or disadvantage depending on your disability. I have limited range-of-motion in my arms, so for me, it's easier because I can reach all the spaces. But for someone with shaky hands and dexterity-related disabilities, it might prove difficult.
The ability to write appears crucial for Avenue, but there are some workarounds. If you have access to a laminator, laminate a few of the grid sheets and using a dry-erase marker. For me, it helps because it requires less pressure to write – and you can erase any mistakes made. Richard Ham of Rahdo Runs Through also uploaded a player sheet that you can open in Photoshop or similar paint programs; this would be good for using on a tablet or smartphone as well. By the way, Avenue would make a great app game – developers, take note!
For color-blind gamers, you may encounter problems distinguishing between the green and pink castles; my boyfriend, who is red-green color blind, came upon this issue. The grapes have different shapes, where the green ones are long and the purple are short, but he had to ask me which ones they were before we started playing. It would have worked if designers included the differences somewhere on the game pad.
Rating:
4 out of 5 stars. Avenue is perfect for travel, large groups, or a filler on game night. Kids will love this, too, as we play it with my six-year-old niece. Hopefully, the second printing will include color-blind fixes so more can enjoy this sweet game.
Want a copy of Avenue? You can purchase it on Amazon or Miniature Market. Let me know what you think of it by sending a tweet to me @geekygimp!