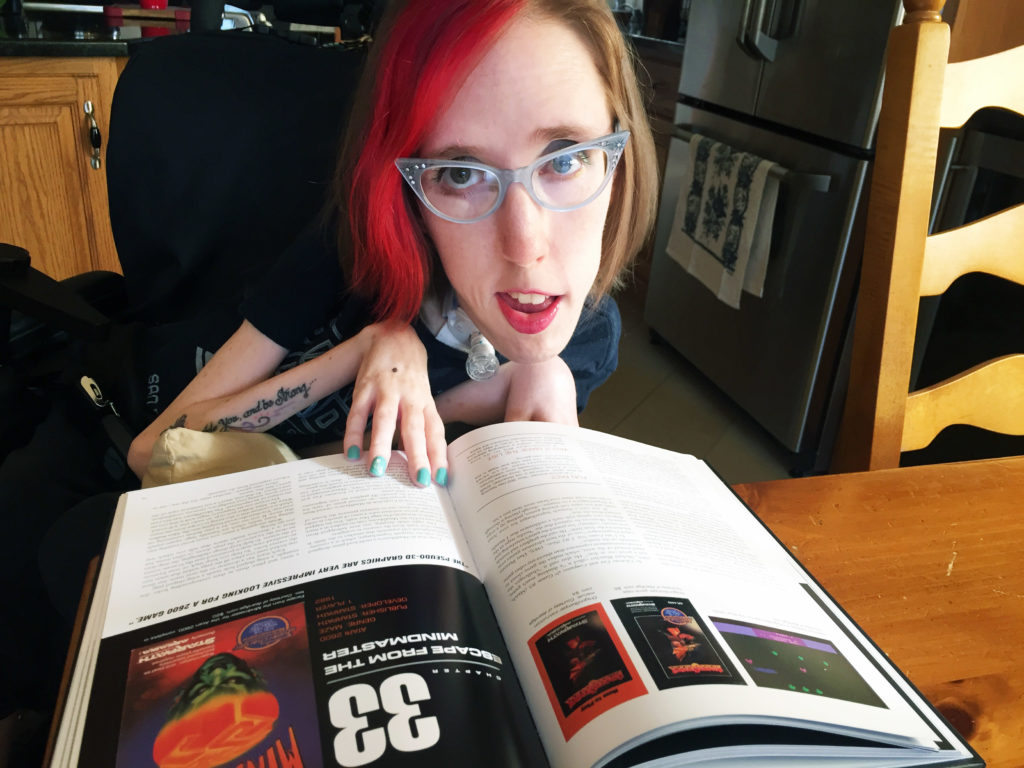 Hi, I'm Erin, and I'm the writer and editor here at The Geeky Gimp. You may be wondering what's up with the name of this blog, so let me explain.
I'm disabled – Muscular Dystrophy, scoliosis, a trach, nurses, anxiety, the whole nine yards. I've been disabled my entire life, so I'm used to the way my body works, its strengths, and its limitations. My biggest problem is the way society views disabled people, and what they expect (or don't expect) of us. I hope this blog helps shatter some of those expectations and stereotypes.
So what does that have to do with being a geek and board games and Doctor Who and Star Trek? Because my disability is something I live with every day, it affects everything I do and how I view media. I thought I could take my perspective as a disabled woman and apply it to reviews of these geeky things that I love. I also write about board game and video game accessibility. These are the things I think about/experience on a regular basis, so I want to share them with all to both create disability awareness and build a community for other disabled geeks.
Speaking of community, I recently hired a bunch of talented, disabled writers to help me cover different topics on this blog. All guest bloggers are paid a fair price for their work, and I am incredibly grateful for their words and assistance in expanding The Geeky Gimp.
What is The Disabled Life? Sometimes I want to write about different aspects of living as a disabled woman, or broader topics that don't fit with the reviews on the site. The Disabled Life is a lifestyle section of the blog that can include topics like: relationships, ableist experiences, how technology is amazing, food stuffs, and more. I will also use this space to link to any guest blogs that I write.
This blog isn't geared toward disabled or abled people. It is a resource and website for everyone. I want to create a dialogue with my fellow disabled people, but I also want to get my message out to a wider audience.
You may also be wondering why I chose to use the word GIMP, especially since it is generally considered a derogatory term for a disabled person. My use is an instance of word reclamation, which is when someone of a marginalized group uses terms that have been used negatively against them in order to turn the tables and make it something powerful. You can read more about it here. If you have any more questions about my use of the word, feel free to contact me and we can talk about it.
If you want to get in touch with me, just head on over to the "contact" page, or post a comment here.
If you want to help support this site, you can: donate on Patreon or Paypal, share my posts, share my link, offer article ideas, purchase the games/movies I review through the Amazon links I include, and comment. If I can't thank you personally, just know that I appreciate all of your support!
Where does donation money go? I use it to maintain the website, hire guest bloggers, hire transcribers for all audio content, and pay for advertisements on Facebook.