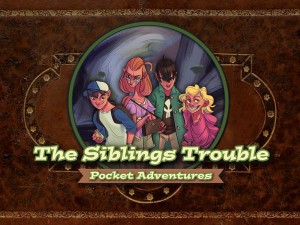 I interviewed designer Eduardo Baraf this past summer about his new game, Lift Off! Get Me Off this Planet! It was successfully funded on Kickstarter, with copies on their way to backers as I post this. Now, Ed is launching a new game on Kickstarter called The Siblings Trouble, with gorgeous artwork and fantastic gameplay mechanisms that give it an epic RPG feel. Check out my interview with Ed below to learn more about the game, which launches today!
GG: Hi Ed, thanks for joining me again to talk about your upcoming game, The Siblings Trouble! Before we get into the details about that, how are you doing? How are things going/where are you with Lift Off! Get me off this Planet!?
Ed: Personally, I'm doing well. Life is busy, but in a good way. My family is healthy and I'm making lots of stuff, which makes me happy. Lift Off! Get me off this Planet! is going well. We were delayed on a few components, but all of the final manufacturing is complete and all copies have left PandaGM in China! The games are now starting the process of being shipped around the world and should be in players hands end of April to mid-May.
GG: How does it feel to have the games shipping out to backers?
Ed: Awesome and a huge relief, but I'm not going to be satisfied or comfortable until I know they are delivered and backers are playing the game.
GG: Can you tell us about The Siblings Trouble? What are the themes and mechanics? What influenced you to make the game?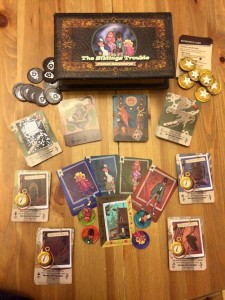 Ed: The Siblings Trouble is a card driven, cooperative, storytelling game. TST boils down all the core elements of an RPG (storytelling, exploration, discovery, treasure, encounters, etc.) into a fun-to-play narrative romp with your family or friends. This is a 30-minute narrative game you can play as an ice-breaker, in-betweener, or as a way to introduce storytelling and adventure games to new players. There is card draw, dice rolling, and a little item trading, but for the most part everything is a prompt for you to tell your story. Theme is quite important to TST and it revolves around that nostalgia for adventures in your backyard.
GG: What have you learned from your Lift Off! Kickstarter campaign and production that you will apply to The Siblings Trouble?
Ed: Oh, you know, EVERYTHING! It has been a totally different experience preparing for this Kickstarter compared to Lift Off!. I'd like to think I've done a better job of it, but honestly the proof will be in the pudding. Even today I still get very nervous about funding.
GG: What are the stretch goals and backer levels for The Siblings Trouble?
Ed: I have a limited set of backer levels for the game:
1$: Support
$25: The Game
$49: The Game + Limited Edition "Book Safe" Box
$99: Uber Fan – 2 Copies of the Game + Limited Edition "Book Safe" Box + Signed, Extra large cards.
Ed: We've only announced the first 4 Stretch Goals:
Second Set of Player Characters
New Location: Mystic Waters
Second Boss per Location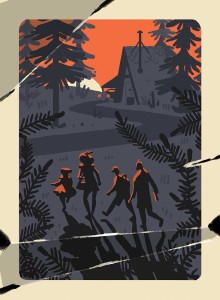 GG: Since your last interview at The Geeky Gimp, you started a YouTube review channel. How is that going? What challenges have you come across with it (if any), and what parts of it do you enjoy the most?
Ed: Yes, I did! Doing Game Reviews has been fun, in particular Kickstarter previews. I wanted to do something on a regular basis to give back to the community and I felt there was a gap for short-form reviews. So far I've filmed over 80 reviews!
GG: Do you have any tips for fellow tabletop gamers who want to get into game design?
Ed: This is an easy one: play games and make games.
GG: Where can we find more about you and your games?
Ed: Check out the Kickstarter here: www.thesiblingstrouble.com. You can follow along on Facebook: www.facebook.com/thesiblingstrouble. And you can also follow me on Twitter: www.twitter.com/ebaraf.
GG: Thanks, Ed! Good luck!