During one of my daily BoardGameGeek website visits, I came across Paperback, a game by designer Tim Fowers. It was only on Kickstarter, with a few people receiving and playing prototypes. Advertised as a Scrabble-like deck builder, I knew I had to back it. I've been playing Scrabble with my family since I was a kid, and I figured this was something I could enjoy with my parents. About six months after the Kickstarter, I received Paperback in the mail. I had completely forgotten that I'd ordered it, so talk about a pleasant surprise! I managed to play two games of it since then, and you can read my thoughts in this review. Currently, the only way to buy this game is to find it on auctions, or pre-order the second printing. You can order it here (click me!), and I strongly encourage it if it seems like something you'd enjoy. Once pre-orders reach 500, the printing will proceed, and you will not be charged until that goal is reached. But I have no doubt it will happen.
Also, this is a special review because I am co-hosting/co-reviewing with Mr. Richard Ham of Rahdo Runs Through! I'm a huge fan of his videos, and I can't believe I am getting the opportunity to collaborate with him. Thanks to Richard, my wallet has suffered from buying the games he features on his channel. I can't say I mind, though my mom is a bit annoyed at the stacks of board games taking over the house. C'est la vie! There is a great interview at the end of this review, and once Richard posts his video and final thoughts, I will include them in this post. [Edit: the videos are now below!] Meanwhile, check out his run throughs on YouTube by clicking the link in this paragraph.
This review also will be different because I am trying out a slightly new format. Let me know which you like better in the comments – just check past tabletop reviews for comparison. I'm always trying to improve, so feel free to give constructive criticism 🙂 Now, on to the review! As always, click on the images to enlarge them.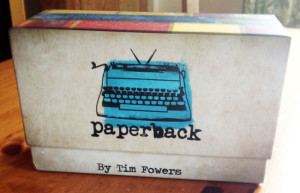 Overview:
Game: Paperback
Designer: Tim Fowers
Artist: Ryan Goldsberry
Publish Date: 2014
Players: 2 to 5 gamers, ages 8 and up
You'll like this if you like: Scrabble, Dominion, Boggle … Read more…