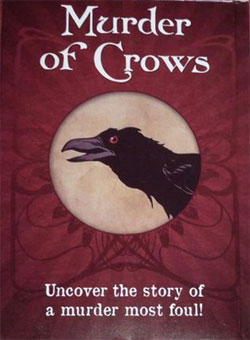 I'm a big fan of the card and storytelling game Gloom, where the object is to make your characters as miserable as possible before killing them off. Sounds like a lot of fun, right? I truly love dark humor. So when I heard Atlas Games had another macabre card game available, I had to snatch it up. It did not disappoint! Let's take a closer look.
Overview:
Murder of Crows
Players: 2 to 5
Ages: 13 and up, although I think it's fine for slightly younger players.
Publish Date: 2012
BoardGameGeek Link: click here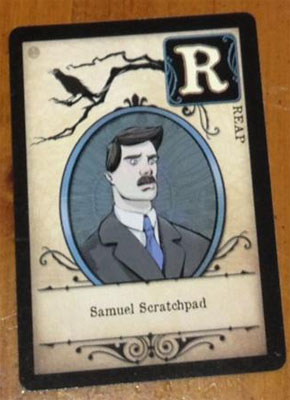 Gameplay/Rules:
According to the rules sheet, the objective of the game is to "reveal a complete murder story by playing all the letters in the word 'M-U-R-D-E-R'." Each card contains one of these letters, along with an accompanying image and a line of story text.
To start the game, players are dealt five cards, and the remaining cards are used as the draw pile. On your turn, you must draw one card and play one card. You can also choose to skip your turn and draw two cards. To play a card, you simply place it into your Murder, which is the table space in front of you. You eventually want to spell out MURDER; this seems easy, but each card allows you to perform an action once it is played associated with its designated letter. For example:
M's action is "misplace," which allows you to take one card of your choice from an opponents murder and put it into your hand.
U is "uncover," where your opponents reveal their hands, and you take a card of your choice.
R is "reap," which is drawing an additional card from the draw pile.
D is "drain," where you must choose one letter and your opponents discard one of that card from their Murder.
E is "expel," where your opponents have to discard their entire hand and draw three new cards.