This is the first in a series of articles I will be posting about video and computer-gaming accessibility. Today's post is by a guest blogger, and I'm very excited about her contribution. I've been watching her YouTube videos for a while, and they're super interesting and helpful to disabled gamers. I hope you enjoy! Also, I'm always looking for more guest bloggers. If you have something to share, please contact me – you can find my e-mail on the About page, or just leave a comment. Now, on to introductions and the review!
My name is April, and I am a disabled gamer.  After years of thinking outside the box to find strategies to get around roadblocks in video games, some friends convinced me to start a website to share my tips in hopes of helping others. I started Ability Powered in early 2013. Now, I post articles, guides, and tips on my website, and have guides and accessibility first-look videos on Youtube. You can check us out at www.abilitypowered.com, or on YouTube at www.youtube.com/abilitypowered.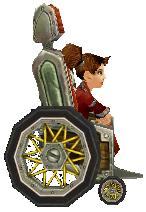 World of Warcraft is Blizzard's popular MMORPG. Players are challenged with the task of questing and defending the world of Azeroth from invasions of all kinds. With villians and injustice at every turn, you and your fellow gamers quickly become heroes!  Sounds fantastic, right? But what about accessibility?
Mobility in Azeroth is, honestly, as good as it gets. There are multiple options allowing players to choose how they wish to move their character. You can move with traditional keyboard movement, which is fully remapable in the keybindings menu. You can also move with your mouse in multiple ways. By default, you can move by holding down both mouse buttons simultaneously. Want to only press one button? You can do that by enabling the Click to Walk option. Click to Walk allows you to right click a point for your character to automatically run to. Need to walk with your right mouse button, or need an on-screen jump button? That's also an option! The addition of Move Pad made it possible for disabled gamers to click an on-screen menu to move their character with simple presses of a button. That's four movement options available to meet players' needs.