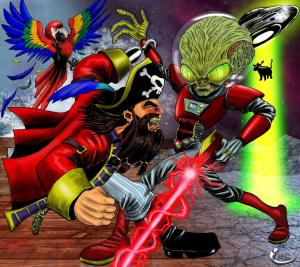 Like many board game reviewers, I have a twitter account for engaging with my followers and to keep tabs on what's happening in the gaming community. One of my followers, David, posted about these new games he was creating that fit entirely in Altoid-like mint tins. I was intrigued, and found his obvious love of the hobby and enthusiasm refreshing. Over the course of a few months, we exchanged ideas, gave each other feedback on our respective projects, and grew to be friends. As the Kickstarter for David's games revved up, he kindly sent me a copy of both Mint Tin Aliens and Mint Tin Pirates, knowing I would give an honest review of his games.
So here we are, a few days before his Kickstarter ends, and I'm finally ready to show you these (spoiler alert!) awesome games. I'm going to review each separately, since they both give you a completely different gaming experience. Also, many thanks to Ing for the fantastic piece of art he created just for this review! You can purchase a print of his work here.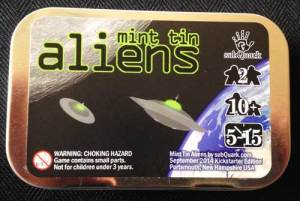 Overview:
Game: Mint Tin Aliens
Visit here: Kickstarter Link
Designer and Artist: David Rene Miller
Publisher and Date: subQuark, LLC, 2014
Players: 2
You'll like this if you like: Ticket to Ride, Parade, Lost Cities
Rules:
You and an opponent square off as alien recruiters, working diligently to complete merit awards in order to become the next invasion leader! This is a set collection game where you must amass different combinations of cards to receive the following merits: Sightings, We're Here, Abduction, Mind Control, and Extra Credit.
At the beginning of the game, the first player is dealt four cards, while the second player receives five. These cards depict various alien-ish images, such as UFOs, crop circles, cows, and creepy brain twins. There are also wild cards, called "moolti-pass," that fill in for any image. After cards are dealt, you place five cards face up in the middle of the table, while the remaining form a face-down draw pile.
On your turn, you can perform two actions. The first action is to draw a card; you can either draw two face-up cards, two face-down cards, or one of each. If you choose a moolti-pass card from the face-up pile, you cannot take a second card. If you happen to draw a moolti-pass from the draw pile, you can still draw a second card. The second action is to complete a merit award, if possible. If you have two UFO cards, for example, you've completed the "Sightings" award and can take it from the supply. If you've got four creepy brain twins, that's good for a "Mind Control" award.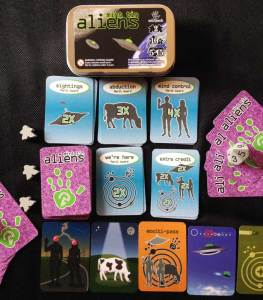 The first player to complete one of each award receives two meeples, while the second player to complete them receives one. If you can't complete an award, you must turn your die to the next lowest number (7 to 6, for example). The game ends when all of the merits have been depleted. Players count the points on their completed awards, adding in the number on their die, plus one point per meeple. The highest score wins!
What I liked:
If you've ever played Ticket to Ride, you will instantly recognize the card mechanics. I really liked how simple it is to teach, especially if you have experience with that game. Even if you don't, explanation takes two minutes, as you only have a few options on your turn. Gameplay is quick and tense, as you race against your opponent to be the first to grab the two meeples. I played this with my mom, and we were surprised at the level of player interaction for a set-collection game. For example, you know the other player really needs that UFO card, but you scoop it up first. Moments like that turn what could be a bland game into a ton of fun.
The artwork is cute, and quite simple – but I think that adds to the visual appeal of this game. A game like this could have been weighed down with excessive art, but I like David's approach. Of course, the tin is what sets this apart from other microgames. It holds the components beautifully, and it's great to just stash in your pocket for any gaming emergencies. The components themselves are high quality, with a nice finish on the cards. Everything is just so darn adorable!
What I didn't like:
The rules for both these games are printed on a few double-sided cards, which are numbered. With my review copy, there were some errors on the rule cards that should be fixed by the time David has to print more. Also, I'm wondering if it would have been more efficient to print the rules on a small folded paper, as it was a bit confusing to follow along when you had to keep finding which card goes next. My only other issues with this game are the meeples and dice. While I like having something other than cards in the mint tin, I just didn't see the thematic sense of the meeples. Maybe they could have been green gems to represent alien crystals or alien technology. With the dice, we never really got a chance to use them in our games – there were always awards we could complete. So while the inclusion of the dice is fun, I'm not sure how crucial they are to gameplay.
The Gimp Glimpse:
Since this is a tiny game, some players may find it difficult (or easier, depending on your disability) to handle the cards. Shuffling is kind of a pain because of their size. The rules are also really tiny, but David has put them up on his website, and you can read them there. Since the mechanics rely on images rather than colors, there shouldn't be any issues for color-blind gamers.
Score:
Somewhere between three and a half to four stars. This game is fun, easily transportable, and great for casual gamers. I can see this as a stocking stuffer for the holidays, or just a cute gift to give to your card-loving friend. However, a reworking of the meeples and dice would make this a more solid game.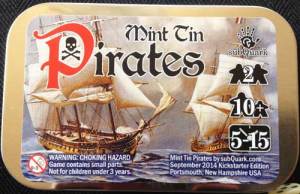 Overview:
Game: Mint Tin Pirates
Visit here: Kickstarter Link
Designer and Artist: David Rene Miller
Publisher and Date: subQuark, LLC, 2014
Players: 2
You'll like this if you like: Battle Line, Libertalia, and Murder of Crows
Rules:
In this game, players are captains of their pirate galleon; as you approach your foe's ship, you realize the only way out is a fight to the bitter end! Each player receives one card that acts as their galleon, three meeples to represent the crew, and a small cube to keep track of your ship's damage. Five cards are dealt to each captain, and the remaining form a draw pile.
On your turn, you have the option of discarding and drawing two cards. The cards have a number of weapons on them that you can use to attack your opponent, such as knives, pistols, cannons, and bombs. If you can, play a matching pair by placing the cards in front of you. The damage your opponent takes depends on which cards were played. If you attack with a knife, pistol, or bomb, your opponent must surrender a member of their crew, who becomes lost at sea. If you attack with a cannon, your foe moves their cube up on their damage track – after four cannon hits, your ship sinks and you lose the game. There are two other cards that can be played, but they do not cause any damage. The desertion card allows you to take a pirate from your opponent and place them on your ship. The Davy Jones' locker card can be used to raise any lost pirate and put them on your ship.
However, before you can play your matching pair of cards, you must first see if your attack will work. Roll the two dice that come with the game; if the number of pips matches the numbers on the bottom of the cards, your attack was successful. Draw two replacement cards, and your turn is over. If you roll doubles, you can take the gold cube and place it on your ship – you can now play with an extra card. If your opponent rolls a double, they take the cube for themselves.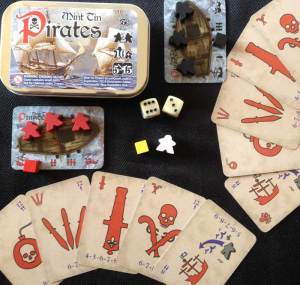 The game ends when you lose all your crew or your ship sinks. Fortunately, if your crew is lost first, you have a second chance! Take the pirate ghost, and place them on your ship. You have to play with two fewer cards now, but you may be able to come out victorious!
What I liked:
The artwork is simple, but very effective in showcasing the theme. The galleon cards are really cool, and an inventive way to make Mint Tin Pirates seem more epic. The gameplay is more involved than Mint Tin Aliens; this will appeal to hardcore gamers as a filler. The back and forth nature of the turns adds to the theme of battling ships, and heightens the level of player interaction. The dice are fun to toss because of their size, and the meeples are well-integrated into the mechanics. I liked the inclusion of the gold cube, and the ghost pirate as an extra chance to win – that's something I haven't seen in many games.
What I didn't like:
The rules to this were a bit confusing, and I think that comes from the way they are printed on the cards. Also, unless I am missing something, the rules don't explicitly state how the game ends, though we just assumed it was when your crew is gone. They also don't state what happens if your roll is unsuccessful – though we just assumed your turn is over and you discard. An edit to the rules would improve this game, and make it more accessible to learn.
The Gimp Glimpse:
There shouldn't be any issues here for the color blind, but the tiny nature of Mint Tin Pirates means the text is small. Also, as for the other game, the cards may be difficult to handle. You can find the rules online, as well.
Score:
Four out of five. Personally, this was my favorite of the two, just because of its slightly higher complexity and more player interaction. My mom prefers Mint Tin Aliens, though.