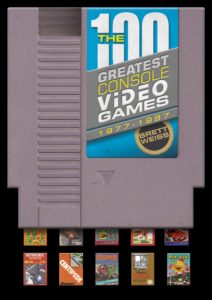 Do you remember the first console game you played? For me, it was probably Video Olympics (with Pong included) or Asteroids on the Atari 2600. Turning that knob to slide the paddles up and down, or pushing that joystick to avoid enemy fire was pure joy for my 5-year-old self. Those pixelated titles ushered in the Golden Age of video games, and it's striking to see how far we've come since then. While we may scoff at console graphics of the late 70s and early 80s, we have to keep in mind how mind-blowingly advanced these systems were for their time. I'm sure 20 or 30 years down the line, PS4 games will pale in comparison to whatever technology has in store for us.
There's a lot of interesting stories to tell about early console design that deserve attention, and Brett Weiss' book, The 100 Greatest Console Video Games: 1977-1987, zooms in on this revolutionary era of gaming. It serves not only as a trip down memory lane, tapping into that nostalgia we so longingly crave, but it acts as an archive and provides a definitive history of popular titles.
This hardcover volume, beautifully bound with glossy pages and a retro aesthetic, looks stunning; but unlike other coffee-table books, it won't stay there long enough to collect dust. As Weiss explains in the preface, it features "such content as production histories, sequels, remakes, ports for current consoles, anecdotes, creator info, collector pricing, comparisons to similar games, comparisons to lesser versions of the game, and, most interestingly . . . quotes from industry professionals" (2014). Each game is allotted two or three pages with these topics, which sets this apart from anything I've ever read on video games. You can tell Weiss chose which titles made the cut with the consideration of a true video game fan and devoted archivist. And if you're bummed about your beloved game not making list, there is an appendix with 100 honorable mentions, including Haunted House – a personal favorite of mine.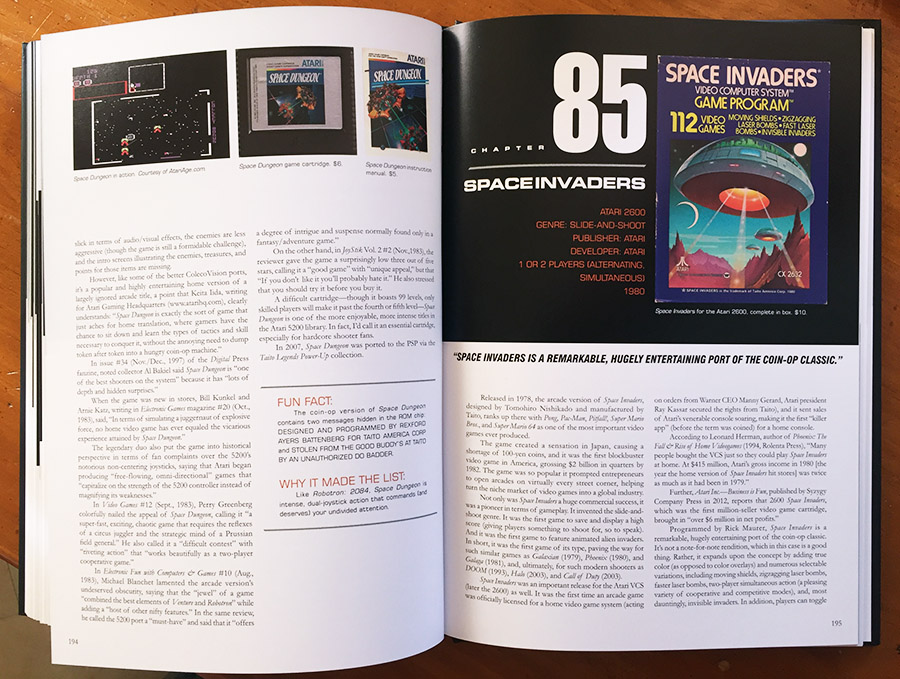 Besides the Atari 2600, the years covered in this book mean we also get to read about games on ColecoVision, Intellivision, Nintendo NES, and more – it has something for every gamer. Also, each entry concludes with a fun fact! For example, did you know Donkey Kong, according to the Guinness Book of World Records, is "credited with having the 'first use of visual story telling in a video game'"? Or that designer Miyamoto named Princess Zelda after the wife of F. Scott Fitzgerald? I love bytes of info like that.
When I received this book in the mail, mom and I looked it over, reminiscing about all the games she played with us as kids. There was a lot of "oh, that game – I remember that one!" going on, which is such an emotional high. Seeing those screenshots of BurgerTime, Centipede, and Ms. Pacman instantly brought me back. Later that night, I showed it to my dad, who also had the same reaction flipping through the pages. It was a bonding moment, us sitting around the table talking about these games that we enjoyed, laughing about the "cutting-edge" graphics, remembering hours spent beating each other's scores.
Of course, there were titles included that we've never heard of, but I was inspired to find them online and give 'em a go. That's the beauty of this book – I could search the web for any game, and play it myself to see why it was listed as one of the best of its era. Thanks to The 100 Greatest Console Video Games, knowing the history of this hobby make revisiting or discovering retro gaming a fascinating and rewarding experience. Now, off to play some Space Invaders!
You can purchase The 100 Greatest Console Video Games: 1977-1987 on Amazon.com, or directly from the publisher. Thank you to Schiffer Publishing for providing this copy for review.
Want more video game content from me? Check out my podcast show, The Geeky Gimp Riots, on Idobi Radio's Geek Girl Riot.