Grail to the Thief is an interactive audio adventure game that is currently on Kickstarter, and produced by For All to Play. It simulates text-based adventures, or pick-your-own adventure games, and adds audio (including ambient sound, narration, and dialogue) for blind accessibility. I was able to play the prototype, currently available for Chrome and Opera users, and absolutely loved it. The story is engaging and humorous, while giving the player a lot of variety and freedom. Unlike other text adventure games where you must type in commands, Grail to the Thief offers you multiple choices to advance in the quest. Also, the sounds included in the prototype are not complete yet, but I really liked what I heard so far – the character voices are not dull, and made me feel like I was really interacting with them. The story itself is amusing, and I can't wait to see what other adventures will be created for subsequent games!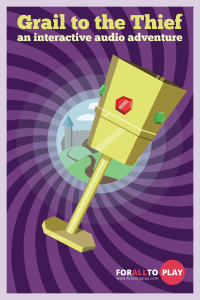 The creators of Grail to the Thief, Elias Aoude, Anthony Russo, and DJ White, were kind enough to answer some questions for me.
1) Can you tell us about yourselves and how you got into game design?
Elias: I've been playing video games my whole life. I can still remember going to the local toy store with my parents to purchase my first video-game console, the Nintendo Entertainment System. I brought it home and played Super Mario Bros. and Duck Hunt with my parents, siblings, and cousin all night long. I knew at a young age that I wanted to be working in the video game industry in some capacity, and now, I'm finally doing that.
Anthony: Games have always been, and will continue to be, a huge part of my life. I started playing games at a very young age, probably around two or three, on NES and later, Sega Genesis. I cannot remember a holiday, birthday, or trip outside the house that I didn't ask to buy a game. I have wedged games into my life in every way that I possibly could. At a young age, I started learning how to produce 3D art for games. I wrote papers all throughout high school on the design and psychological effects of games. Even my Eagle Scout project was related to games, as I donated a Wii to a retirement home so the residents could get up and bowl once in a while and have fun as a community.
I am a lucky person, in that I have always known what I wanted to do and why. I want to make games because I want to deliver the sense of community and enjoyment that games have given to me my whole life to others. Whether it's yelling at friends over multiplayer games, comparing times in a racing game, discussing story beats of a well-written narrative game, or talking about the intricate mechanics of the latest strategy game, I have yet to see a more social, engaging, dynamic medium than games. I have always wanted to be a part of its production, and I can't imagine doing anything else.
DJ: I've always been really interested in video games. My parents owned an NES before I was born, so some of my earliest memories are actually of watching my mom play The Legend of Zelda. But I never really considered working on games until I was at WPI. I had already decided to head towards computer science, but as I thought more about what I was planning on doing after school, I realized that game design was where I was really headed.
2) How did you get involved with Grail to the Thief? What is the game about, thematically?
Anthony: While a student at WPI, I wrote a paper on how to use the technology available today to make fun, accessible games for the blind. During my research, I conducted interviews with kids at Perkins School for the Blind in Watertown, MA. This experience led me to realize few games are available to the blind, and many of the games that are available are dated, not that fun, and rely on screen readers in order to play. A screen reader is a synthetic computerized voice that reads what is on a computer screen, and is an essential part of computer accessibility. Because they hear these screen readers so much in their everyday lives, they associate them with work, not play. My research eventually led me to design Grail to the Thief, which was designed to have full audio support in order to eliminate the need to use a screen reader.
Elias: An older relative of mine was blind for most of his adult life, and I remember him not having many options for entertainment other than listening to the television when I would visit him and his family (this was before computers, the Internet, and screen readers were in every home). Anthony and DJ were developing Grail to the Thief as their final undergraduate student project, when I met Anthony in my Graduate level class at WPI. I liked what they were doing as it brought more entertainment options to the blind, so we formed a team in an effort to take their project and expand on it to create a complete, commercially available game that would be accessible to the blind.
DJ: Grail to the Thief follows Hank Krang, a thief from the future, and his self-aware time machine, TEDI, as they go throughout time stealing priceless artifacts. In Grail to the Thief, Hank and TEDI travel to Arthurian times in search of the Holy Grail. The story has a light hearted, comedic tone and was written to allow for episodic sequels to Grail to the Thief. If the game is well received, we would like to develop additional entries that follow Hank and TEDI on other time travel adventures.

3) What makes this game accessible?
Elias: Anthony's research has shown that the blind associate screen readers with work, not play, so we eliminated the need to use a screen reader by recording voice-overs, sound effects, ambient sound and music. In addition, we simplified the game mechanics and controls by incorporating a conversation tree from which players can select a command, eliminating the confusion and frustration that comes with traditional text adventure games which require players to type in commands to progress.
4) How do you see accessibility issues being addressed (or not being addressed) in the gaming community? What else should, and could, be done to make games playable for everyone?
Elias: Accessibility can be an afterthought at many game development studios. Even today, games ship without basic expected features such as configurable controls and colorblind support. These oversights can even happen on big budget, AAA titles. A recent example is Borderlands 2, which shipped without colorblind support and had to be patched post-release. Game development studios need to consider accessibility issues during pre-production, rather than finding out post-release that many are unable to play their game. Thankfully, organizations such as The AbleGamers Foundation are working hard to increase awareness of the accessibility issues that face the gaming community. AbleGamers even publishes a free game accessibility report titled Includification, a must read for all game designers that want to ensure their games are optimized for maximum accessibility.
—–
To support Grail to the Thief, please pledge on Kickstarter. If you can't donate, spread the word to your friends/family!